Steve Kanold
President, A.C.T., Inc.
Left to right: Lalo Alvarez, Linda Rose, Steve Kanold, and Tina Spencer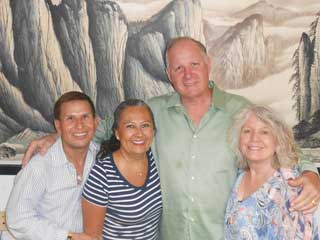 Thirty years ago we customized our first group tour to Europe. The "clients" were in fact A.C.T. founder Steve Kanold's German students—22 in all, with three adult chaperones. The trip was a success; all returned with an appreciation of America, as well as foreign cultures. This was followed three years later by a second tour, comprised of more adults. The word got around that group travel was fun, and voila!—a new career was launched.
Fast forward to 1989: When Kanold moved to the Coachella Valley, the Palm Springs Adult School asked him to create a "Global Classroom" so it could offer tours as part of its curriculum. Under the sponsorship of the Palm Springs Unified School District, over a dozen trips were successfully conducted to such diverse places as China, Greece, Italy, Panama, and even Branson, MO (the Ozarks are filled with history!). In January 1995, Adult School Travel became an independent corporation with the new name Adult Customized Tours (A.C.T.).
Having had the privilege of traveling with thousands of you to almost 140 countries on all seven continents, we unveil with the same excitement as that first journey 34 years ago our travel programs for 2017. Please keep in mind that throughout the year we are adding new itineraries to our menu, and we encourage you to check our website for the latest updates.