About your 5-star cruise ship: Emerald Princess is one of the largest ships in the Princess fleet. She offers nearly 900 balcony staterooms from which to take in each vibrant horizon, or capture a breathtaking sail-in through Glacier Bay and to Alaskan ports. Relax and enjoy the street performers in the Italian-inspired Piazza or snuggle atop a lounger at Movies-Under-the-Stars. The 24-hour International Café and award-winning Vines Wine Bar will fulfill your cravings for fresh desserts, toasted paninis, and more. Discover wonderful cuisine and activities, and come back with new friends and incredible memories of your Alaskan cruise, without the hassles of flying and long lines at airports.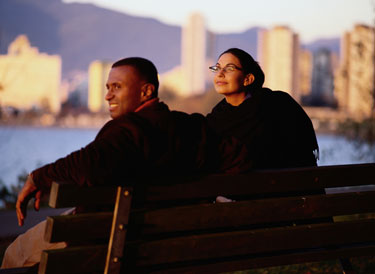 Day 1: EMBARKATION.
Depart by motorcoach for the Port of Los Angeles from the Coachella Valley and inland regions, with pick up at select locations. Unpack and explore your luxury "floating hotel," the Emerald Princess . Set sail at 4:00 p.m.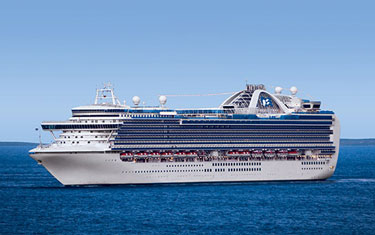 The Emerald Princess
Day 2 & 3: CRUISING.
Two relaxing days at sea. Enjoy your ship's many amenities as you head north along the Pacific coast to Canada. There are three dinner seatings on the Emerald Princess: 5:30 p.m., 6:00 p.m., and 8:15 p.m.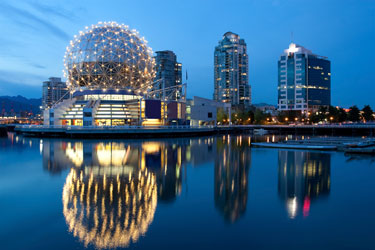 Beautiful Vancouver
Day 4: VANCOUVER, BRITISH COLUMBIA (CANADA).
7:30 a.m.-4:30 p.m. Vancouver, a bustling west coast seaport in British Columbia, is among Canada's densest, most ethnically diverse cities. A popular filming location, it's surrounded by mountains and invites outdoor pursuits of all kinds, but also has thriving art, theatre and music scenes. Vancouver Art Gallery is known for its works by regional artists, while the Museum of Anthropology houses preeminent First Nations collections.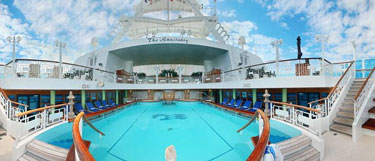 The Lotus Spa Pool
Day 5: CRUISING.
Enjoy the many amenities on board your ship. You will be cruising Alaska's Inside Passage, also known as "The Panhandle." This southeast region is known for spectacular scenery, abundant wildlife, and vivid native cultures.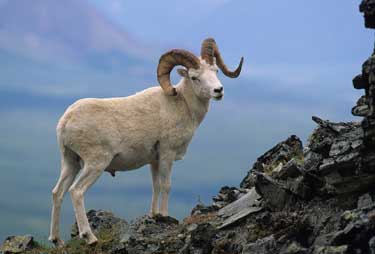 Day 6: JUNEAU, ALASKA.
11:00 a.m.-10 p.m. Alaska's capital city of Juneau is a dramatic sight with a backdrop of lush green mountains. Visitors here can drive, float, paddle or take a helicopter to the monumental Mendenhall Glacier. Other popular excursions include cruising along the straits and sounds of the Tongass National Forest, prospecting for gold at the original site of gold discovery or visiting the Alaska State Museum and the Alaska Brewing Company. Many visitors enjoy hoisting a beer at the famous Red Dog Saloon.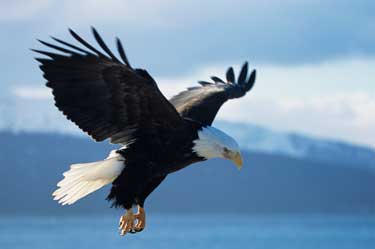 Day 7: SKAGWAY, ALASKA.
6:00 a.m.-8:15 p.m. As the northernmost point of the Inside Passage, the town reflects its mining past its buildings and gold rush relics. Tourists can experience the majesty of White Pass summit and the Yukon territory aboard the railway, paddle to Glacier Bay and Chilkoot Bald Eagle Preserve, get a close-up view of the natural beauty on a wilderness safari, soar over glaciers on a helicopter tour or, for those who catch the fever, pan for gold.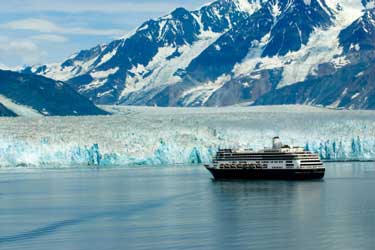 Glacier Bay
Day 8: GLACIER BAY, ALASKA. CRUISING.
6:00 a.m.-3:00 p.m. Glacier Bay National Park, an UNESCO World Heritage Site, protects a unique system of plants and animals living in concert with an ever-changing glacial landscape. What a spectacle! Glacier Bay has more actively calving tidewater glaciers than anyplace else in the world.

Rustic Ketchikan
Day 9: KETCHIKAN, ALASKA.
8:00 a.m.-5:00 p.m. A traveler's first view of this Inside Passage port town may be of a boat-filled harbor enveloped in snowcapped mountains. The rustic city of Ketchikan has been called the totem pole capital of the world. Tours show off the city's streets, restored from the pioneer days; the harbor's salmon canneries; and the world's oldest collection of totem poles at the Totem Heritage Center. Sport fishing, kayaking, hiking, bear watching and Misty Fjords seaplane excursions are also popular. Panning for gold? That's done here, too.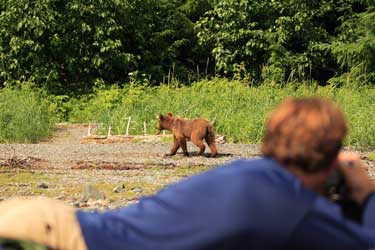 Day 10 & 11: CRUISING.
Three relaxing days at sea to enjoy the amenities of your cruise ship: Casino, Internet Center, Spa, etc.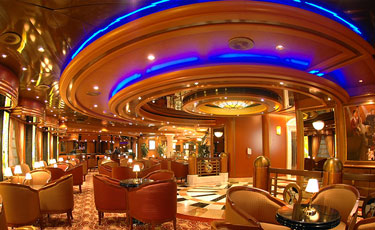 Club Fusion

Day 12: LOS ANGELES.
7:00 a.m. Disembark and transfer back to the Inland Empire and Coachella Valley.