A.C.T.'s new vacation combines two of Southeast Asia's most popular destinations! Experience history, culture, exciting shopping and fine hotels at a leisurely pace. Spend five days in Bangkok, capital of Thailand, where glass towers and golden temples compete for skyline prominence. Bangkok is a vibrant mecca of open-air bazaars, floating markets, hip bars and street-food stalls. Then, fly to Siem Reap, Cambodia and for three days explore the "Lost City of Angkor," once the capital of the ancient Khmer Empire, which ruled the country from the 9th to the 13th century. The city and its fascinating temples were slowly covered by jungle until they were lost to civilization. At the end of the 19th century, the jungle was cleared to reveal the "8th Wonder of the World"--the ancient Temples of Angkor Wat--today an UNESCO World Heritage Site. First class and deluxe hotels with brunch-style breakfasts, comprehensive guided sightseeing, a special Thanksgiving dinner in Cambodia—all this and more is included, as well as airfare from Los Angeles. Happy Thanksgiving, indeed!
Nov. 16 & 17: Your exciting journey begins as you fly tonight from Los Angeles to Thailand, "Land of Smiles."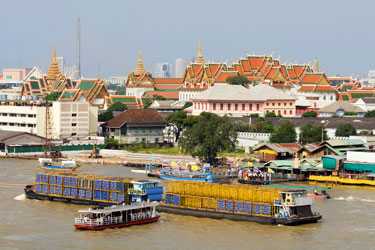 Nov. 18: BANGKOK.
Welcome to the capital of Siam (Thailand)! Upon arrival, transfer to your upscale hotel, located on the banks of the Chao Phraya River. Rest of the day at leisure. RAMADA PLAZA MENAM RIVERSIDE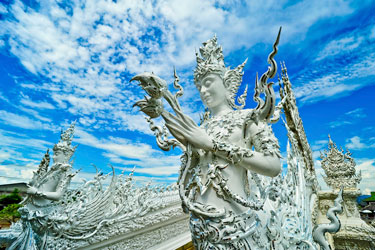 Nov. 19: BANGKOK.
Today we introduce you to this vibrant city. Your morning tour of Bangkok is highlighted by some of the outstanding Buddhist temples (wats) in the capital. Visit Wat Trimitr with its invaluable 5-ton solid gold statue of Buddha and Wat Po, featuring the colossal 150 foot long "Reclining Buddha." See the White Marble Temple representing the finest example of Thai architecture. Afternoon at leisure, with an optional tour of the Royal Palace, real-life setting for the musical "The King and I."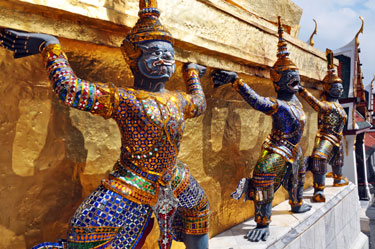 Nov. 20-21: BANGKOK.
Two full days to explore independently or take advantage of A.C.T.'s customized tours to Damnoensaduak Floating Market or to Ayutthaya, Thailand's ancient capital. Alternately, you may choose to travel inland to view the famous Bridge on the River Kwai and other WWII sites, or take a romantic illuminated dinner river cruise, or ride elephants through Thai jungles. Of course, you can also take advantage of the amenities at your river front hotel, including easy access to the BTS Skytrain and Asia's largest night bazaar, Asiatique, which is just a short 5-minute walk or complimentary tuk-tuk shuttle ride away!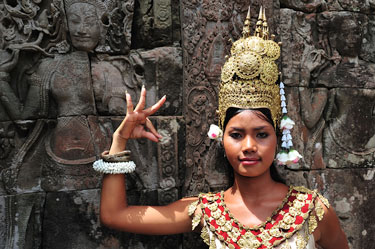 Nov. 22: BANGKOK/SIEM REAP (Thanksgiving).
Fly this afternoon to Siem Reap, Cambodia. Be met by your national guide and transfer to your sprawling, deluxe hotel. To make this Thanksgiving memorable, tonight you will join fellow travelers and feast on a special, multi-course dinner with dance performance. ROYAL ANGKOR RESORT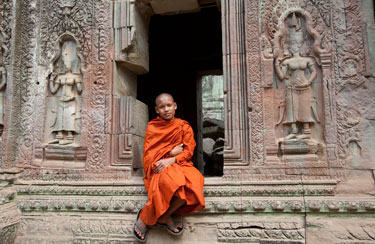 Nov. 23: SIEM REAP/ARCHAEOLOGICAL SITE TOUR.
Incredible sights await you today on a guided tour of the Buddhist archaeological complex known as Angkor Wat, at 162 acres the largest religious monument in the world. Visit Banteay Srei and Banteay Samre Temples; admire the South Gate of Angkor Thom; tour Bayon Baphoun and Phimeanakas, the Royal Palace, and the Terraces of Elephants and Leper King. See the Ta Prohm Temple and–time permitting--enjoy a spectacular sunset at Phnom Bak Kheng Temple.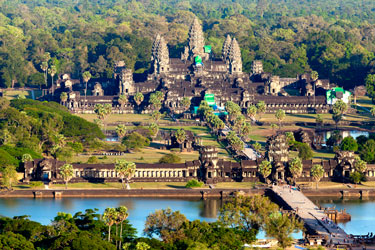 Nov. 24: SIEM REAP/MEKONG RIVER VILLAGE/ANGKOR WAT TEMPLE.
This morning, travel to the floating village of Tonle Sap on the Mekong River and visit its market. Then, as the Grand Finale to your tour, proceed to Angkor Wat, the crowning Indianized temple situated at the enormous complex. Originally designed as a Hindu temple of the god Vishnu during the Khmner Empire, it gradually became a Buddhist temple by the end of the 12th century. Opt to climb to the top of its steps for a spectacular view of the UNESCO Site!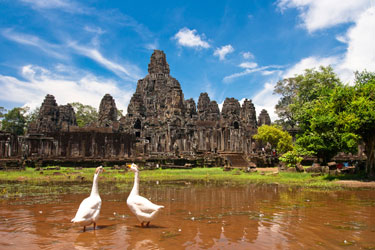 Nov. 25: SIEM REAP/LAX.
Your memorable journey ends when you fly back to Los Angeles, arriving the same day.