Day 1: DEPART LOS ANGELES
Begin your exciting journey to Asia's subcontinent with transfers to LAX and your overnight flight to India.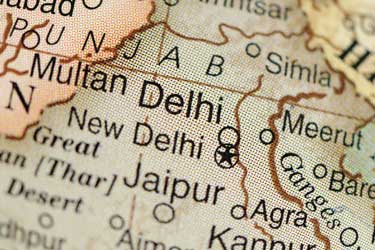 Day 2: NEW DELHI, INDIA
Welcome to India! You will be met by your Tour Manager and transfer to your hotel. SURYAA HOTEL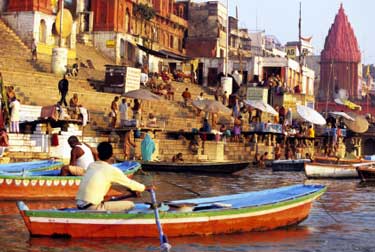 Day 3: DELHI.
Sightseeing today focuses on sites in both Old and New Delhi. Visit the Memorial to Mahatma Gandhi, Father of the Nation, the 17th century walled city of Shah Jahanabad, the President's House, and Qutub Minar, the world's tallest minaret. (B,L,D)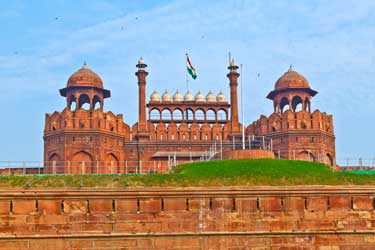 Day 4: DELHI/AGRA
On the road to Agra, visit the Lotus Temple, one of the most remarkable architectures of Bahai faith; and the Akshardham Temple, which depicts the Hindu mythology and Indian culture and is a monument to world peace. Upon arrival in Agra, tour the red sandstone Agra Fort, a UNESCO World Heritage site constructed in 1565. FOUR POINTS SHERATON (B)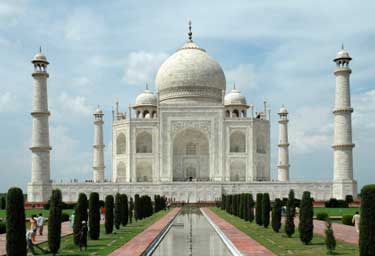 Day 5: AGRA
Sunrise visit to the magnificent Taj Mahal, an architectural wonder built by Emperor Shah Jahan as a mausoleum for his beloved queen. Later, after a rest at the hotel, enjoy an excursion to Itmad-Ud-Daulah, the first white marble inlaid grave in the pure Indo-Persian style, built in 1622; and to Sikandra Fort, the mausoleum of Akbar, the greatest of the Mughal emperors. (B)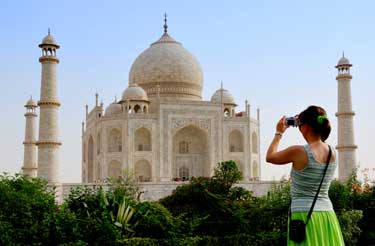 Day 6: AGRA/FATEHPHUR SIKRI-BHARATPUR/RANTHAMBORE NAT'L PARK.
After breakfast drive to Ranthambore, visiting Fatephur Sikri en route. Built in 1571, Fatephur Sikri is one of the world's most perfect ghost cities and a marvel of design and red sandstone construction. Late afternoon arrival in Ranthambore National Park, one of the nine "Project Tiger" sanctuaries and once the hunting preserve of the Maharajas of Jaipur. RANTHAMBORE REGENCY (B,L,D)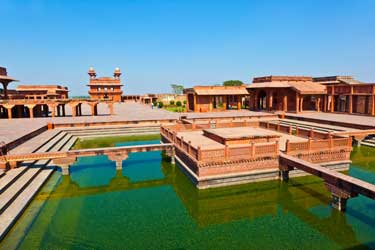 Fatephur Sikri
Day 7: RANTHAMBORE.
Morning and afternoon game drives in this sprawling park (392 square miles), bordered by the Banas and Chambal Rivers, which contains Bengal tigers, leopard, nilgi, wild boar, sambar, hyena, sloth bear and chital. It is also home to a wide variety of trees, plants, birds and reptiles, and is the site of one of the largest banyan trees in India. (B,L,D)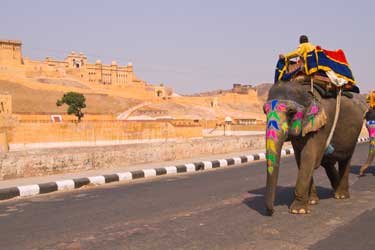 Day 8: DEPART FOR JAIPUR,
nicknamed the "Pink City" for the predominant color of its buildings, boasts stunning hilltop forts, glorious palaces, and a bargain-filled Grand Bazaar, which you will visit today. Later, tour the "Palace of Winds" with its lacy ornamental facade and Jantar Mantar Observatory, as well as the opulent City Palace, former royal residence now a grand museum. HILTON JAIPUR (B,D)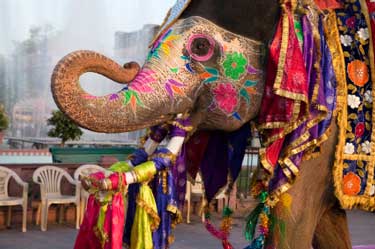 THE HOLI FESTIVAL, aka "Festival of Colors," is joyously celebrated each spring in Jaipur (and all over India). People young and old play with colors and water, sing and dance and throw colors on each other as a way to ring out the old (winter, enmity and worries) and ring in the new. In short, the celebration of Holi bears witness to a feeling of oneness and sense of brotherhood, created in a colorful atmosphere!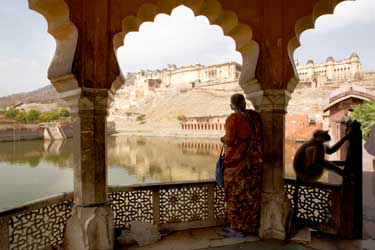 Day 9: JAIPUR.
Second day to partake in the Holi Festival. At Amber Fort, built in Mughal and Hindu styles, ascend the hill to the ramparts by elephants (or, if you prefer, by Jeeps). Amber was the name of the ancient kingdom of Jaipur and also the name of its ancient capital, situated 7 miles away. Later, drive to Delhi and overnight at an airport hotel. THE PRIDE PLAZA (B)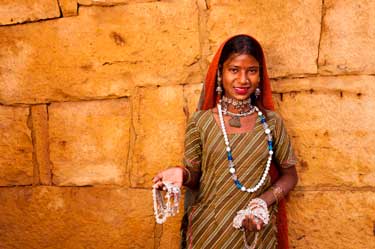 Day 10: U.S.A.
Your memorable tour to Asia's sub-continent ends this morning, when you fly back to Los Angeles. (B)
FIVE-DAY EXTENSION TO LEGENDARY KATHMANDU, NEPAL $895 ppdo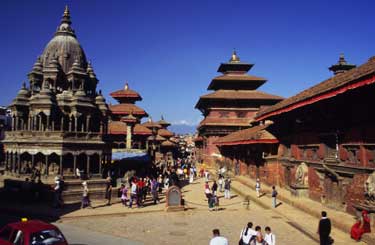 Mar. 10-14 Don't miss this chance to visit the stunning mountain scenery of the Himalayas combined with the ancient culture and friendly people of Kathmandu. Your 4-day stay in the Kingdom of Nepal includes an overnight in its rural countryside, a Kathmandu city tour (showcasing Durbar Square, with more than 50 palaces, pagodas, and temples), and the chance to flightsee past Mount Everest. Airfare, hotels in Kathmandu (2 nights), Nagarkot & Deli (1 night each), daily breakfast, Nepalese dinner show.
Returns to LAX on Mar. 7.