Why Poland? From impressive natural beauty to rich history and mouthwatering food, Poland—which recently was named by Lonely Planet's "Best in Travel" series as the most interesting and noteworthy country for tourists—is the only European country to have avoided a recession and is now reaping the benefits of an economic and visitor boom.

Poland boasts 14 unique UNESCO World Heritage sites, and several are featured on A.C.T.'s tour, including the picturesque historical Old Towns of Warsaw and Krakow. There is a vibrant cultural life in the capital, Warsaw, with its hip bars, vegan restaurants, and alternative clubs (many call it the new Berlin!). Krakow, on the other hand, will charm you with its picturesque cobbled streets, historical landmarks, craft shops, and cozy cafes. All this, combined with beautiful medieval churches and stunning landscapes, makes the country one of the most alluring European destinations.
Day 1: DEPART LOS ANGELES
this afternoon on LOT Airlines' nonstop flight to Warsaw, Poland.
Day 2: WARSAW.
Arrive in Warsaw, Poland's capital city and transfer to your 1st class hotel. Balance of the day is at leisure. This evening, enjoy an orientation meeting with your Tour Manager and fellow travelers, followed by a welcome drink and dinner. METROPOLE HOTEL (D)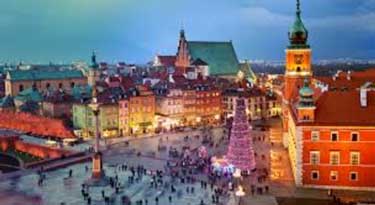 Beautiful Warsaw
Day 3: WARSAW CITY TOUR
This morning, a tour of Warsaw includes both banks of the Vistula River. Visit Lazienki Park to view Chopin's Monument, then travel along the Royal Route with its historic monuments and residences toward the Warsaw Ghetto. Walk through the cobbled streets of Old Town to Market Square. View the Cathedral of St. John and the Royal Castle. Balance of the day is at leisure or join the optional tour to Wilanow Palace, the former summer residence of the Polish kings situated just outside of Warsaw. The tour of the palace, built at the end of the 17th century for King Jan III Sobieski, makes Polish history come alive. (B)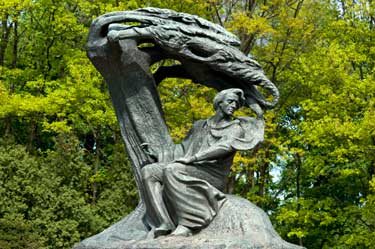 Chopin statue in Lazienki Park
Day 4: FREE DAY IN WARSAW TO EXPLORE INDEPENDENTLY.
Your centrally located hotel is near all of Warsaw's attractions. Optional day trip to Prague, colorful capital of the Czech Republic.
Day 5: WARSAW/KRAKOW.
Travel south to Czestochowa to see the Paulite Monastery at Jasna Gora, a place of devout pilgrimage by Polish Catholics and home of the Black Madonna, a portrait of Our Lady that is said to have miraculous powers. Drive to Krakow, former residence of the Polish kings. HOTEL WYSPIANSKI (B)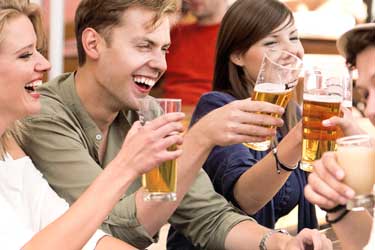 Day 6: Krakow.
This morning, take a tour of medieval Krakow, including a visit to the 16th century Wawel Royal Castle District. Visit the Jewish Quarter and view Oskar Schindler's factory. Continue to the Old Town and Market Square to view St. Mary's Church and the Renaissance Cloth Hall. In the afternoon an optional tour to Auschwitz-Birkenau, the infamous network of concentration camps from World War II. (B)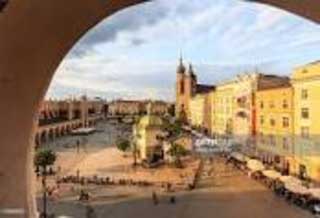 Krakow
Day 7: KRAKOW.
Today enjoy a full day at leisure in Krakow. Optional tour to the Wieliczka Salt Mine, an UNESCO World Cultural Heritage site. Tonight, enjoy a Farewell Dinner. (B,D)
Day 8: RETURN TO WARSAW.
Free morning before driving back to Warsaw. METROPOLE HOTEL (B)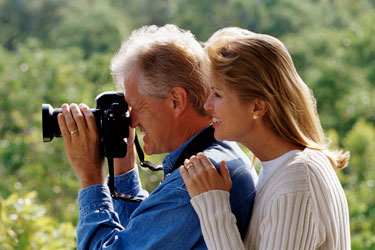 Day 9: DEPART POLAND.
Transfer to the airport for your nonstop flight back to L.A. Arrive the same day. (B)