Jan. 21: PAPEETE, TAHITI.
Boarding your ship begins today at 1:00 p.m. A.C.T. will offer group airfare from LAX (TBA). Papeete is the capital of Tahiti and houses all the government offices as well as several historical landmarks.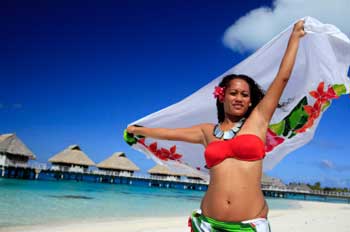 Jan. 22: MOOREA.
8:00 a.m.-6:00 p.m. Dozens of green mountain spires pierce the sky above this incredible tropical island, located just 11 miles from Tahiti. A scenic drive around the island reveals magnificent views of Cook's Bay and Papetoai Bay. Moorea is a popular diving and snorkeling destination, and other options include a visit to a brandy distillery or island cruise.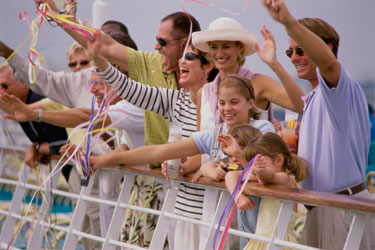 Jan. 23: AT SEA
The Marina, an ideal midsized luxury vessel, creates a familiar and comfortable ambiance while offering refined amenities and luxurious accommodations. More than 90% of staterooms feature a private balcony for passengers to relax and enjoy the sights and sounds of the ocean. Six open-seating restaurants, including the gourmet Jacques and Red Ginger, live up to the fine standards of cuisine Oceania is renowned for. For guests looking for enriching activities onboard, The Bon Appétit Culinary Center offers cooking lessons with experienced chefs and The Artist Loft provides courses in fine arts. Visit the Yacht Club for wine and food pairings or relax and socialize in one of the intimate lounges throughout the ship. Discover a legendary spa experience at the Canyon Ranch Spa Club. There is something fun and fulfilling for every guest on the lauded Oceania Marina.
Jan. 24: FAKARAVA.
8:00 a.m.-6:00 p.m. Fakarava in French Polynesia has been designated part of a UNESCO nature reserve because of its pure environment. The town is populated with picturesque villages and coral churches. Snorkelers and scuba divers will love this atoll with its purple waters and 150-foot visibility. There are black pearl farms and white, sandy beaches.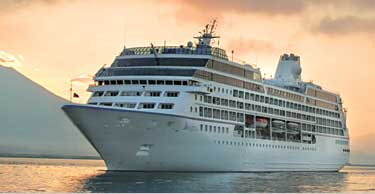 Oceania Cruises' deluxe ship
Jan. 25: RANGIROA.
8:00 a.m.-5:00 p.m. Rangiroa is the largest atoll of the Tuamotu Archipelago. The interior lagoons are a haven for black pearl farms, fish-breeding farms, snorkeling and scuba diving. A large lagoon, as well as the clear blue water outside of the Tiputa Pass offers dives for both novice and experienced divers. Visit the home of gray sharks, rays and reef fish.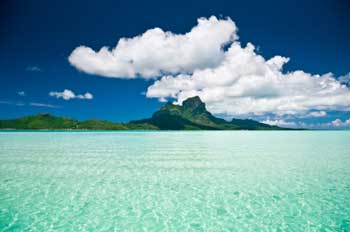 Jan. 26-27: BORA BORA.
10:00 a.m. Volcanic peaks dominate this unspoiled island surrounded by miles of aqua lagoons. Most tourists wander the shops, sun on snow-white beaches or swim in the crystalline waters. The best way to see Bora Bora is by renting a jeep, moped or bicycle and traveling the single road that circles the island. Other options include spending the day at the Bora Bora Lagoon Resort or the Hotel Bora Bora, where snorkeling is offered. Set sail on Jan. 27 at 11:00 p.m.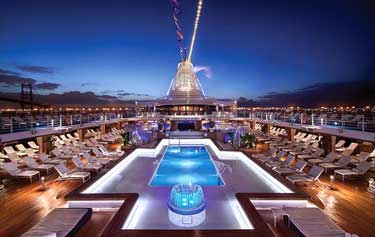 Pool deck on the Marina
Jan. 28-29: RAIATEA.
8:00 a.m. The largest of the Leeward Islands, Raiatea is totally surrounded by a reef but has several
navigable passes and the only navigable river in French Polynesia. Raiatea shares a protected lagoon with the island of Taha'a. Discover fascinating underwater scenery within Raiatea's deep lagoon, which is rich with fish and surrounded by mountains. The island offers lush green valleys, numerous waterfalls and pineapple and vanilla plantations. Depart on Jan. 29 at 7:00 p.m.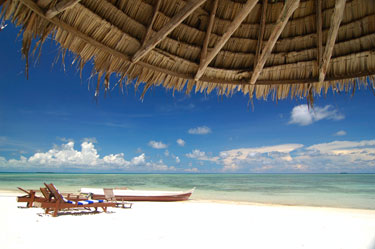 Jan. 30: HUAHINE.
8:00 p.m.-5:00 p.m. Huahine is the oldest settlement in the group of 14 islands that make up French Polynesia. Excursions take passengers in an open-air tram to view the restored temples, the stone fish traps and ancient villages of Maeva, an archaeological site. Surfing and diving are also offered, and there are coral reefs offshore that are ideal for snorkeling. You may be able to visit a vanilla plantation or take a four-wheel Jeep ride into the interior.
Jan. 31: PAPEETE.
Because most flights to the United States depart Tahiti in the early evening, you have plenty of time to visit the cafes and shops and to wander the narrow streets and busy waterfront of this Polynesian paradise, which lured artist Paul Gauguin and writer Robert Louis Stevenson to its sandy shores. Art lovers will want to visit the Gauguin Museum. You also can explore botanical gardens or enjoy the beaches lapped by blue-green waters.